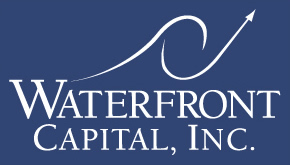 Testimonials
"Waterfront Capital delivered a purchase price for my company far exceeding my expectations and also crafted a creative solution on the real estate that improved our outcome dramatically. In my opinion there is no one that matches Waterfront Capital's commitment to its clients or its understanding of the market for companies in the industry..."
- Neil Mizner, President, Metropolitan Archives
"WCI successfully led us in a process through challenging market conditions and got it done at an outstanding..."
- Leon Kroll, Archives Management, Inc.
"Waterfront demonstrated fiduciary responsibility beyond the call of duty. Their advocacy on my behalf..."
- Gordon Naughton, President, JH Bennett, Inc.
"Waterfront Capital understands the vending business like few people in the industry. Having bought and sold..."
- Scott Boynton, Great American Vending
"Selling our vending business was challenging; compounded by deteriorating credit markets and a shrinking industry.  Waterfront Capital left no stone..."
- Harris Willman, Automated Refreshment Services
"Before engaging Waterfront Capital, we tried for two years to sell our business. Waterfront Capital quickly produced results. They had the process nailed..."
- Mel Mohr and Steve Sfugaras, The Document Bank
"WCI understands valuation, financials, negotiating, and deal structure. They made sure my sale was tax efficient too. I would absolutely use Waterfront again."
- Mark Barretti, Accurate Document Destruction, Inc.
"I am an experienced businessman, yet in selling my operation, I was glad to have WCI find a buyer and negotiate the terms of the sale. They were on top of ..."
- Jim Smagala, Pro-File Business Records Storage
"I have worked with Waterfront Capital since 1996 on a variety of deals and business ventures. They advised me on the sale of two businesses, ..."
- Doug McCraw, Data Archive Services, Inc.
"The sale of my business just wouldn't have happened without Waterfront Capital. The final result achieved all..."
- Bob Slettedahl, All Valley Document Storage, Inc.
"WCI adds serious value. They know my industry, the buyers and are very tough negotiators. I didn't plan on using..."
- Warner Fleischman, American Vault – Data Vault, Inc.
"Time is money. WCI is smart, focused and very efficient. Waterfront Capital is every bit as good as their stellar reputation."
- Jeff Hamra, Titan Private Security Vault, LLC
"WCI's knowledge and contacts brought about a very positive and timely outcome." Retaining them was the best investment I ever made."
- John Griffin, Archive Services, Inc.